Integrating Affiliate Marketing and Influencer Marketing
Subscribe to our industry newsletter for the latest influencer marketing trends, collaboration ideas, and up-and-coming bloggers.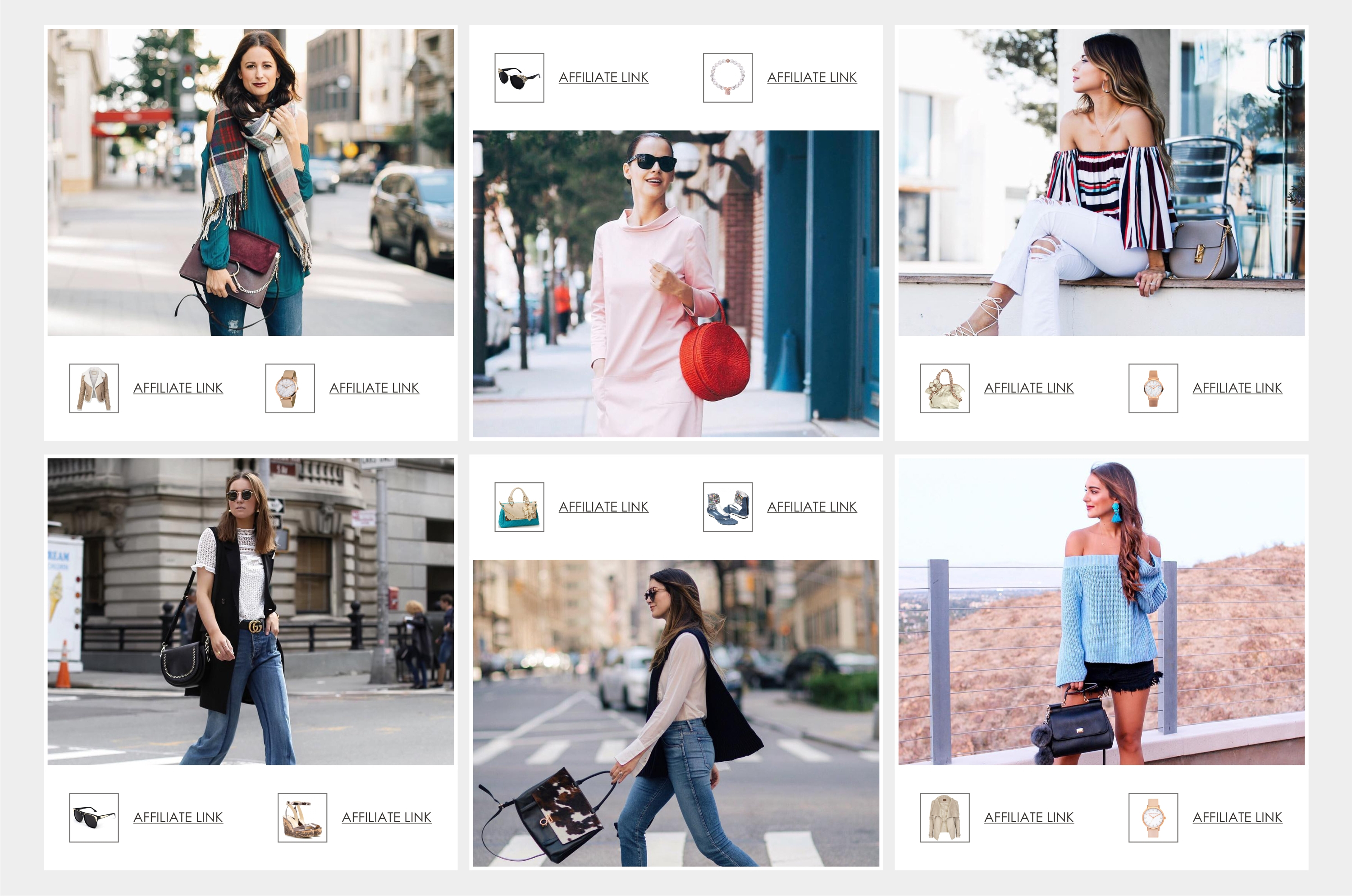 Affiliate Marketing in the Age of Influencers: Adding Affiliate Marketing to Influencer Collaborations
Once seen as completely separate marketing tactics, Affiliate Marketing and Influencer Marketing are becoming a powerful combination. Where marketers once had to choose between the direct revenue and tracking potential afforded by affiliate marketing or the brand messaging and awareness that has come with Influencer Marketing, brands are now seeing ways to integrate these methods to reach wider audiences and generate a greater ROI.
Affiliate Marketing vs. Influencer Marketing  
Affiliate Marketing is a performance-based marketing strategy that allows businesses to reward online publishers, or "affiliates" for each sale made through custom links given to an affiliate. This once meant including an ad banner on a media site but now, it often means including a unique link in a blog article or Instagram post that allows viewers to instantly shop a promoted product. The benefit of Affiliate Marketing is that it's low-risk from an investment standpoint, and brands have the opportunity to track direct sales from a campaign. 
The downside of exclusively using Affiliate Marketing is there is less control over the message and less direct focus on the brand. For example, a blogger might feature a brand among 10 other products, or use one brand's product images with an affiliate link directing shoppers to a competitor. Another challenge of affiliate-only campaigns is the difficulty in finding the right affiliates, especially for those brands looking to promote their products on content sites. 
Many sites promoted by affiliate networks focus on coupon codes and price comparison. These types of sites are not always suitable for fashion, beauty and lifestyle brands, hence the search for appropriate affiliates can be very time consuming via this channel. Where traditional Affiliate Marketing has not involved flat-fee payments or gifts beyond commission, this compensation is the cornerstone of Influencer Marketing. The benefit of this strategy is that collaborations are dedicated, giving brands greater control over the message and result. 
Affiliate Marketing + Influencers 
Although brands have traditionally approached Affiliate Marketing and Influencer Marketing as separate strategies, the evolution of Influencer Marketing — particularly by way of technological advancements — has allowed marketers to take advantage of both tactics in a single campaign. Shopping Links has been instrumental in integrating these two distinct strategies as the first Influencer Marketing Platform to facilitate Affiliate Marketing within an influencer collaboration. Utilising Shopping Links affiliate links (SLINKS), brands add commission to paid and gifted collaborations, allowing them to benefit from the awareness and brand messaging of an Influencer Marketing campaign, with the direct revenue potential and tracking of an Affiliate Marketing campaign. 
Since brands only pay affiliates when a sale takes place, Affiliate Marketing is incredibly cost-effective -- particularly for fashion and lifestyle brands that already earn much of their revenue through e-commerce channels and have a lot of traffic to their site. The influx of influencers acting as publishers has given brands more opportunity to take advantage of Affiliate Marketing, allowing them to access multiple consumer groups and test their traction among different demographics without the risk of misspending marketing dollars, however the management of so many smaller content publishers can be prohibitive for most brands.
Content sites -- specifically, blogs — have rarely been the breadwinners for Affiliate Marketers. Although they serve to introduce shoppers to new brands and generate conversations, they rarely result with a sale as the last click, which is the hallmark for Affiliate Marketing success. Sites that compare prices and promote discount coupon codes have traditionally seen a lot of success with Affiliate Marketing. So as shopper behavior becomes more and more complex and the path to purchase more obscure to marketers, how can brands leverage the best of both worlds?
Success Story 
Affiliate Marketing combined with Influencer Marketing has proven particularly successful for international fashion brand Marks & Spencer, which has a wide range of products that it markets to several countries. Affiliate Links give the brand a cost-effective way to track online influencer sales and performance, while also tracking clicks and average order values of their followers. Influencer Marketing allows Marks & Spencer to efficiently reach the right target audience, strengthen its brand awareness and cement its loyalty with fashion trendsetters, who are more likely to mention the brand organically after a collaboration. 
Through Shopping Links, Marks & Spencer currently runs Affiliate + Influencer Marketing campaigns with this blended approach in 5 key international markets.
Adding Affiliate Marketing to Your Influencer Collaboration
Although affiliate links can be an effective sales and tracking tool for brands who have strong brand equity with their target audiences -- and lots of traffic — it is important to remember that bloggers will not generally promote brands or products with which they have no experience, making a broader influencer collaboration that involves a brand experience all the more important.  
To effectively add affiliate links to your influencer collaboration, first decide what you hope to achieve. Adding affiliate links is a great option if you're looking to generate new leads and track the results of your influencer collaborations.  If you're looking to generate lots of traffic, sales and awareness, you will need to attract the best bloggers, so you may want to consider offering a combination of high commission, gifting and flat fee payments. If your goal is sales volume, traffic is generally going to yield the highest return. If your aim is to generate brand awareness or new customer acquisition, we would recommend a gifting collaboration combined with commission on sales. 
Overall we find that combining a good commission rate with payment for the sponsored content is the most effective in driving not only interest but traffic and sales. Above all, building strong influencer relationships is the foundation for the highest return on your Affiliate and Influencer Marketing investments. If the influencer does not feel valued, it can be a challenge to build ongoing genuine interest and engagement for your brand. 
Not sure how to find the right balance between Affiliate Marketing, gifts and paid compensation for influencers? We are always happy to help. Get in touch at hello@shoppinglinks.com.