5 Unique Influencer Campaign Brief Ideas You Haven't Thought of Before: Part 2
Subscribe to our industry newsletter for the latest influencer marketing trends, collaboration ideas, and up-and-coming bloggers.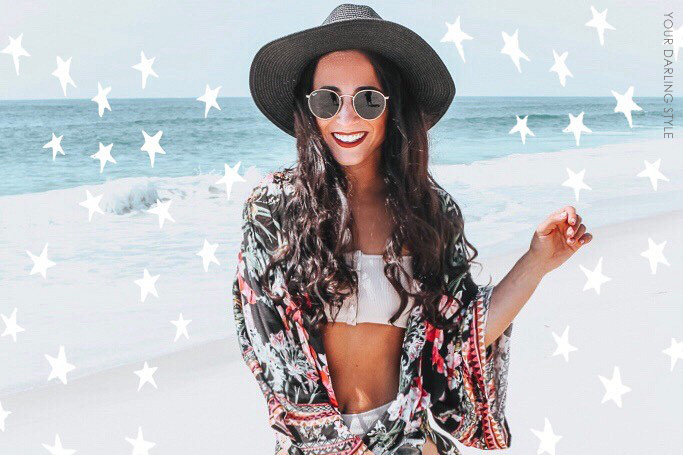 Last week, we explored best practices for influencer marketing creative briefs in Part 1 of this two-part article series. Check out the post for with tips to attract the best influencers for your brand and how to communicate your requirements when you post a collaboration opportunity. Today, we're looking at real case studies and results from leading brands who have nailed their influencer communication, leading to more interest from the right bloggers and a stronger overall ROI. 
American fashion brand Hale Bob (featured above) is a great example of a brand that knows how to attract influencer interest. When the resort-focused brand wanted to create compelling content for its summer styles, they sought to collaborate with jet-setting social influencers who could take Hale Bob on their journeys across the globe, wherever they might be traveling. To attract the right bloggers, it was important that Hale Bob communicate the right tone, values, and objectives in its creative brief. An engaging voice that communicated an upscale, yet whimsical style, combined with an enticing, personalised gift offer and clearly stated requirements helped the brand attract dozens of applicants on Shopping Links, from which they selected five diverse bloggers with a combined potential audience of 272k viewers. These influencers produced 15 pieces of high-quality content in locations ranging from Australia to Argentina, giving the brand meaningful collateral in addition to high engagement. The collaborating generated 13.5k likes and more than 500 comments on Instagram. To learn how you can incorporate the right elements into your own creative briefs, here are five more case studies to follow, with a bonus example brief you can use to guide your next collaboration:   


CASE STUDIES
Success Through Shared Values: Global Beauty Brand
A global beauty brand connected with us recently because they wanted to reach new audiences and establish familiarity by running a long-term collaboration with influencers of varying backgrounds and skin types. Offering a combination of payment and product, the brand sought influencers who would be willing to share their experience using different products over the course of a number of weeks. The brand encouraged applications from environmentally conscious bloggers who shared the brand's commitment to using cruelty-free, human-tested products, signaling the importance of these values to their brand. Here's a breakdown of their brief details: 
The Offer:  
- Approximate payment of $400

 

- Ample product to test and try

 

- Feature on brand social pages and website

 
Required Deliverables: 
6-9 Instagram Stories over 10-12 weeks with a swipe up 
1-2 Instagram posts over 10 weeks
1x blog post (open to bloggers with strong domain authority) 
1 YouTube clip (open to bloggers with strong YouTube presence) 
Results: 72 bloggers applied for 5 opportunities  
Summary: Although we find that shorter-term collaborations often attract more applicants than longer-term collabs, the combination of payment and gifts offered by this brand, coupled with the appeal of their strong values, allowed them to attract a strong number of applicants. If you run a multi-post collaboration over the course of weeks or months, be mindful that you may need to offer sufficient payment and gifts to boost your applications. 
Gift + Payment Done Right: American Fashion Brand  
An upscale resort-wear brand recently posted a brief to attract jet-setting influencers for a collaboration designed to strengthen awareness of the brand among travelers, while producing content in exotic locations for its internal campaigns. The brand specifically sought influencers who could add a cultural viewpoint with their content, declining standard street-style shoots. Here are their details.  
The Offer: 
- 2-3 pieces valued at $750
- Payment starting at $200  
- Feature on brand social pages and website 
Required Deliverables: 
1x blog post 
2x Instagram posts 
2x Instagram Stories with swipe-up 
Results: 264 applicants, 5 selected
Summary: This brief has every component needed to attract a lot of applicants: a high-value gift, competitive payment, and a relatively low commitment in terms of deliverables, given the offer. The requirement of travel did not appear to deter applicants, which is an encouraging sign for brands looking to secure gorgeous content for their social media and EDM/CRM campaigns that would otherwise require expensive photo shoots. With every Shopping Links collaboration, brands are licensed to digitally use content created for the campaign. 
---
Want to see how you can effectively apply the gift + payment strategy for your own brand? Get in touch for a demo!
---
When Gift-Only Works: Luxury Skincare Brand
A global skincare brand posted a brief seeking to collaborate with bloggers who are passionate about luxury beauty products. The collaboration required bloggers to share their favorite pieces through an Instagram post and Instagram Story with a swipe-up that directed followers to the brand's eCommerce page. The brand used descriptive language, emphasizing luxury, and a high-value gift to target the right bloggers. Here's how they approached their details: 
The Offer: 
- Product valued at $200 
- Feature on brand social page and website 
Required Deliverables: 
1x Instagram post 
1x Instagram Story with swipe-up 
Results: 73 applied, 10 appointed 
Summary: This brand attracted a high number of applicants by setting the right expectations with our 'Gifting' collaboration type. By using this collab type, the brand specifically targeted bloggers who were happy to accept a gift-only collaboration. Asking for a one-off post and Story, rather than a longer-term commitment, also helped to attract lots of applicants. When you are gifting, you will often get the best results when you streamline your deliverables. You can see a great deal of value from an Instagram post and Story alone, particularly since every influencer accepted for the Product Seeding collab type must have at least 10k followers, allowing you take advantage of the swipe-up feature. We also find that Influencer's who genuinely like the product after trying it will continue to push the product organically after the requirements of the collaboration have been met.


Target for Quality Applicants: Global Fashion Brand  
A fashion sportswear brand sought influencers to spark a conversation about adventure and exploration through travel-focused content. The brand was looking to achieve a few specific goals with this campaign: improve its SEO through quality inbound links, secure gorgeous content for internal campaigns, and gain traction for a new hashtag supporting its travel-focused initiatives. Here are their details: 
The Offer: 
- Gift valued at $250 
- Payment starting at $450
- Feature on brand social channels and website 
Required Deliverables: 
1x Instagram post 
1x Instagram story with swipe-up 
Results: 49 applied, 11 selected 
Summary: This is a great example of a brand brief that beautifully hit its target. Sometimes, a high volume of applicants is not what you want. If you don't have the time to sort through each one and compare insights, you can filter your results to get only the bloggers that fit your parameters. You can do this by selecting "high" or "medium" influence levels only, or by narrowing your desired age range and geographic area. 
---
Want personalised advice for finding the best influencers for your brand? Get in touch for a demo!
---


Leverage an Event: US Accessories Brand 
An American accessories brand sought to leverage a retail holiday that perfectly coincided with its audience by engaging influencers to promote a themed sale. The brand emphasized that although the collaboration was for a specific promotion, they were interested in establishing a long-term relationship. For this collaboration, influencers agreed to post to Instagram and Instagram Stories on the specified holiday.   
The Offer: 
- Accessory gift valued at more than $55  
- Feature on brand social pages and website 
Required Deliverables: 
1x Instagram post 
1x Instagram Story with swipe-up 
Results: 40 applicants, 6 selected 
Summary: This is another great example of a highly targeted brief. Using the Product Seeding collaboration option, the brand knew that it was posting its opportunity to bloggers who have at least 10k followers on Instagram and are interested in gift-only collaborations. By signaling that the brand was looking to form long-term relationships with selected bloggers, the brand positioned itself to attract influencers who value the brands with whom they collaborate and may be open to future work. 
Final Thoughts 
Running one-off collaborations with streamlined deliverables will attract a large number of applicants 

Run longer-term collaborations with multiple deliverables and due dates will attract fewer influencers, but applicants will be more targeted and results more rewarding

Using Shopping Links' parameters to filter your search will help to attract more targeted responses

Adding a high level of detail, including your brand handles, hashtags and key messages, will help to avoid miscommunication and ensure you reach your KPIs.

 
BONUS: EXAMPLE BRIEF
Curious what a good creative brief should look like? Follow this example: 
Brand: US-based home goods brand  
Objective: Announce new home decor collection  
Sample Brief: We have launched our new summer collection of home decor products, including outdoor furniture, summery wall art, linens and more. We would like to collaborate with 4-5 US influencers to announce that pieces are now available to shop online. We are hoping to develop relationships with influencers who love home decor and are always looking to start a new project. 
In this collaboration, we would like to show how to "refresh" a room with a new season, using pieces from the new collection. You will choose four pieces from our collection, within a budget of $500, for your room makeover. You will be required to post x 2 on Instagram -- one mid-progress with a caption about what your home means to you, and one of the final makeover. You will also be required to post x 4 on Instagram Stories, showing each piece in the home with a swipe-up to the product's specific eCommerce page.  
Total Gifts: 
4 products, selected within a budget of $500 from our eCommerce site 
Total Deliverables: 
2x Instagram posts 
4x Instagram Stories 
Hashtags to use: #homeforsummer #roomrefresh 
Payment: $200 USD  
Why this brief works: 
It targets a specific type of blogger 

It is specific about the requirements and outlines what the brand needs for the collaboration to be successful (in this case, links to its eCommerce page) 

It offers a high-value gift that target influencers will want 

It offers payment. If you want to receive lots of applications to choose from, you will need offer payment. An offer of between $200 and $400, coupled with a high-value gift and relatively low commitment, will be attractive enough that you could expect to see mid-level and perhaps one or two high-influence bloggers applying. 
Based on our experience with this level of gift and payment, you could expect to see more than 250 applicants, which is higher than average. To curate your responses, you could use Shopping Links' parameters to select just lifestyle bloggers, or just mid- and high-influence bloggers. Adding a time-intensive deliverable to your requirements -- for example, a blog post -- can further help to attract only bloggers who feel passionate and excited about the collaboration. Remember, the best bloggers for your brand are rarely the ones with the biggest following; they're the ones with the greatest personal enthusiasm and follower alignment.