Photography Tips for Style Bloggers
Subscribe to our industry newsletter for the latest influencer marketing trends, collaboration ideas, and up-and-coming bloggers.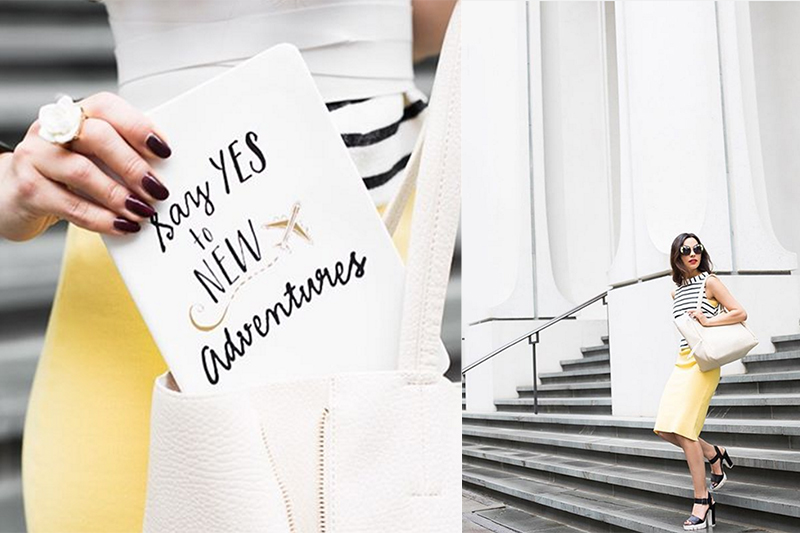 Guest Submission by Shopping Links Blogger Lavenda Memory for our "My Camera" Series.
---
Taking photos seems to be the most daunting aspect of blogging for newbies. I'm excited to share a few tricks that I've picked up over the years that allow you to take quality and consistent images no matter who's shooting you. 
MY CAMERA & KIT
Right now I shoot with the Canon EOS 5D Mark III. It's a professional DSLR full-frame camera, which means that it does not crop the image seen through a lens. I also use three main fixed lenses including the 35mm 1.8, 50mm 1.4, and 85mm 2.8. These are all mid-range to high-end lenses with my 35mm being the most affordable and PERFECT for Instagram images. (It's the widest lens and captures a lot of image at a closer frame -- great for flat lays or ¾ outfit portraits.)
YOU DON'T HAVE TO BE A PRO PHOTOGRAPHER
What's great about this decade is the prevalence of smart phones sporting built-in hi-resolution cameras. If you own a phone that a hi-res front facing camera, this is actually all you'll need to start out. Let me know if you'd like to read a separate post on iPhone exclusive blog posts.
TAKE GREAT PHOTOS EVERY TIME
The key to becoming a trustworthy, popular blogger is to create consistently good content. YOU are the visionary and art director behind your blog, so no matter who is taking photos of you, with the right framing, light and composition, your images will be stunning! Here are some tips to take beautiful (and flattering) images every shoot:
1. Look for a Clean Backdrops. A clean backdrop will allow the outfit and details to pop and draw the eye. Here is an example: 
2. Find Your Light. If it's early morning you can shoot from nearly any direction. After about 10 am you'll want to place the sun to your back and then use manual settings to set exposure for your skin and any white wardrobe pieces.
3. Shoot from a Low Angle or Straight Across. Shooting from a low angle will make you appear taller in the image. Shooting straight across from your subject for closer shots still feels editorial and doesn't give you that "MySpace" effect.
4. Use the Rule of Thirds. This is a good rule to follow if you want a clean, relatable post. The rule of thirds refers to your composition when placing your subject in frame compared to the background. For example, with a full body portrait, if you wanted to center someone to the left of the frame, you'd want to split the frame into three parts (in your mind) and place your subject in one of those spots. 
5. Create Negative Space. For some shots you want to leave negative space as you compose in order to make the final image more interesting. Negative space simply means space in the image that does not capture your subject.  This is not a rule for all images, but rather a strong suggestion for frequent captures, to keep the images interesting and stylized, instead of repeating the same standard portrait frames. The above example shows great use of the above three points, the Rule of Thirds, shooting from a low angle, and using negative space. 
6. Study Blog Photos That You Like. We all take inspiration whether from Pinterest, the pages of Vogue or our favorite bloggers. This allows us to continue seeing things from different perspectives so that we make better frames when in the moment.
7. Don't Over-Filter Your Images. Once you have selected your images, you don't want to over-edit or over retouch them. It may be distracting. (*Note- if you have a certain stylistic filter you always use, I applaud this because it may add a personal touch to your overall blog and feeds).
---
About the Writer: Previous to launching her style blog, www.lavendascloset.com, Lavenda spent 8 years in the fashion industry as a commercial and fashion photographer. Her client list includes Solestruck, Sorel and LadyGunn. 
---
Get in touch at blogsubmissions@shoppinglinks.com to learn more about submitting an article to our Blogger Contributor Series.