Introducing New Product Seeding Functionality
Subscribe to our industry newsletter for the latest influencer marketing trends, collaboration ideas, and up-and-coming bloggers. 
We are thrilled to introduce streamlined Product Seeding functionality, allowing you to now gift influencers with guaranteed results. Using our self-serve platform, you may select 10, 25 or 50 Influencers with a minimum of 10k+ Instagram followers who are required to post within 30 days of receiving product. You will receive communication details directly for each influencer you select to work with. 
To start seeding product, simply log into your brand account as you normally would. You will now see two options when you post a collaboration: "Brand Promotions" and "Product Seeding."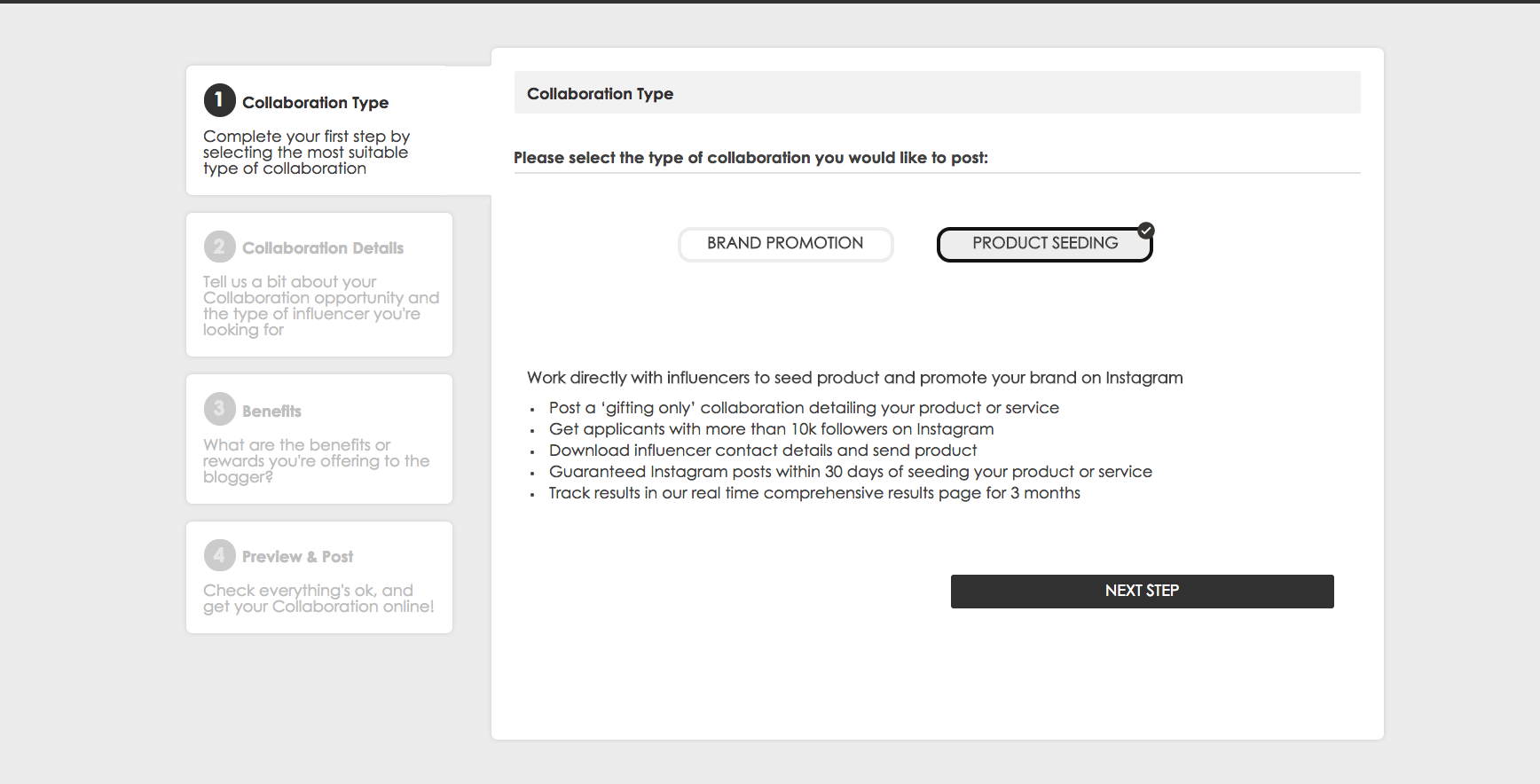 Select "Product Seeding" and continue by clicking, "Next Step."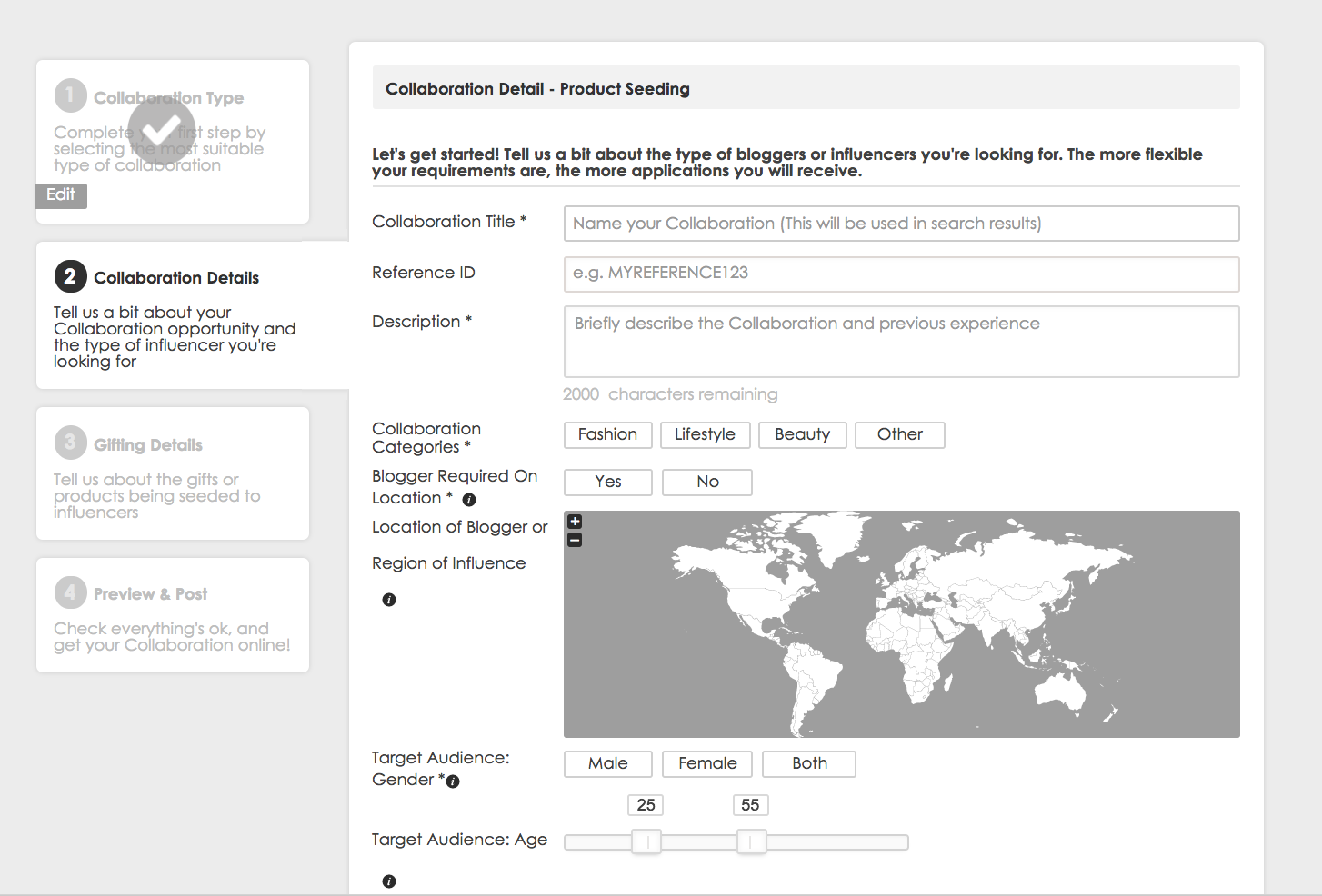 Here, you'll enter your collaboration details and the types of influencers you are looking to gift product. This screen will look quite familiar if you have previously run gifting or paid collaborations. As with regular Brand Promotion collaborations, you can choose to refrain from making your brand name visible to the bloggers who are matched to your opportunity.. 
Once you have completed this section, you can then enter your Gifting Details: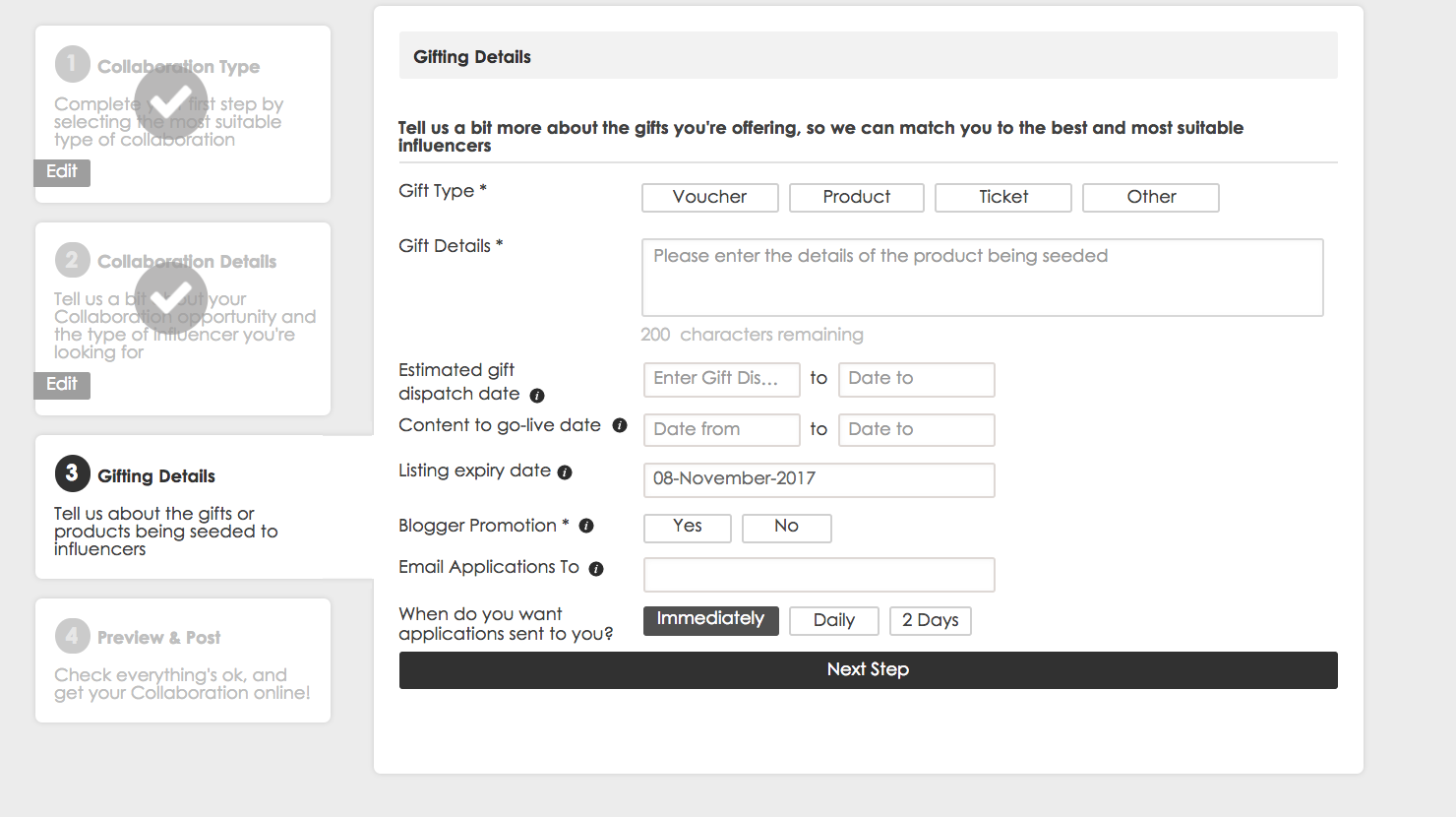 Here, you will enter the type of gift you are offering, whether it's an experience, such as a stay at a hotel, tickets to a Fashion Week event, or a traditional product. 
Upon entering your Gifting Details, you can select the number of influencers you would ideally like to work with, review and publish your collaboration:
Please note that prices above are in AUD. Get in touch for USD pricing. 
All Product Seeding Collaborations include: 
Campaign Analytics. 3 months of tracking, showing engagement, reach and sales (if using an affiliate network) by individual influencer.
Influencer Insights. You will still be able to review the profiles of each influencer before selecting them to ensure a good brand fit. Our blogger profiles feature engagement levels, social following across multiple channels, and examples of past content. We continue to encourage all bloggers to connect their Google Analytics, giving you even deeper insight into their audience demographics. 
Direct Contact Details. Brands receive full contact details for every blogger selected making it easy to ship product. 
Guaranteed Results. Bloggers are required to post within 30 days of receiving product. Brands may select a new influencer, no questions asked, if one does not post within 3 months of receiving your gift.  
Collaborations start at USD $895 for 10 bloggers. If an influencer does not post within three months of receiving a product or experience, let us know. We will credit that influencer to your account so you can select another influencer. 
We are always happy to help if you have any questions, and we welcome your feedback as you use this new functionality. Please feel free to share at hello@shoppinglinks.com.